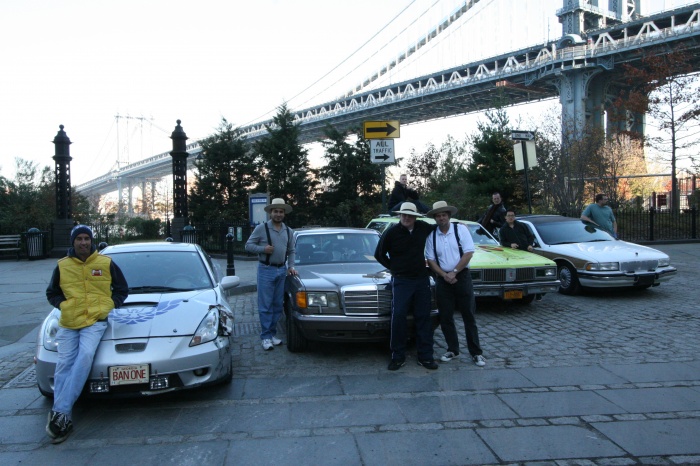 Once again, and against all odds, the amazing teams somehow coaxed, willed, and cursed their sub $2k buckets to cross this great country in amazing time.
There are many names on The Crappy Trophy. Some with military records, some with mohawks, and some with strange fetishes for dishware. But they all have been teams ... until now. Yumi aka "Team" Civil Disobedience is the first The 2904 solo competitor, and to every NYC bookies' surprise he is also this year's winner! Yes you read that right, SOLO. With a time just 27 minutes short of the record this Southern gentleman trounced the competition, clocking in at 37 hours 35 minutes. Channeling the spirits of his moonshining ancestors he and his faithful Smokey and Bandit edition Toyota Celica kamikazed coast to coast at a rate that can only be called miraculous. The other teams suspect Yumi might have a twin brother, or a teleporter, but until proven otherwise he remains Supreme Champion.
The Amish Anarchists showed the world what a few Chicago lads with straw hats, crappy beards, and an inflatable lip stick wearing pig can do. They abandoned their original 1977 Buick Electra just before the start in favor of a more "reliable" $1500 Mercedes 560SEL. The Amish definition of reliability? One broken shock tower, an inoperable rear hydraulic suspension, a leaking engine seal, and oil spewing out of the tailpipe. Now we understand why they usually stick with horse and buggy. After a ticket in New Jersey it was smooth sailing for Amish, but ultimately they we unable to match the blazing pace of Han Solo. All in all an excellent first attempt. Lesson learned: invest in oil if you going to leak that much Texas tea.
The Rustbucketeers, comprising members from last years record holding A-Team, fell victim to the old "the previous owner left bits of marijuana in the center console" scenario. Their $1000 LT1 V8 powered Buick Roadmaster station wagon was pulled over not once, but twice in Illinois and given the complete automotive drug search. This included pat downs, identity checks, and drug sniffing dogs locked in the car (and eating all of their pretzels). And what are the odds they get pulled over twice in the Amish Anarchist's home state? Hmmmm? Finally, in a last ditch effort to overtake the AA, they fell victim to the old "I think we just ran out of gas" scenario. Lessons learned: vacuum out all the previous owners pot thoroughly, and bring at least one gallon of spare fuel.
Our collective hats are off to Team Griswold and their natty Oldsmobile station wagon. With a range of only 200 miles per tank, a busted heater, and a broken tooth, they valiantly soldiered and shivered on in the finest The 2904 fashion. Committed to the journey they soon discovered the true intimacy between men that can only be achieved after being locked in the car together for 47 hours and 32 minutes. Lessons learned: spend more than $450 on your car next year, and see your dentist regularly.