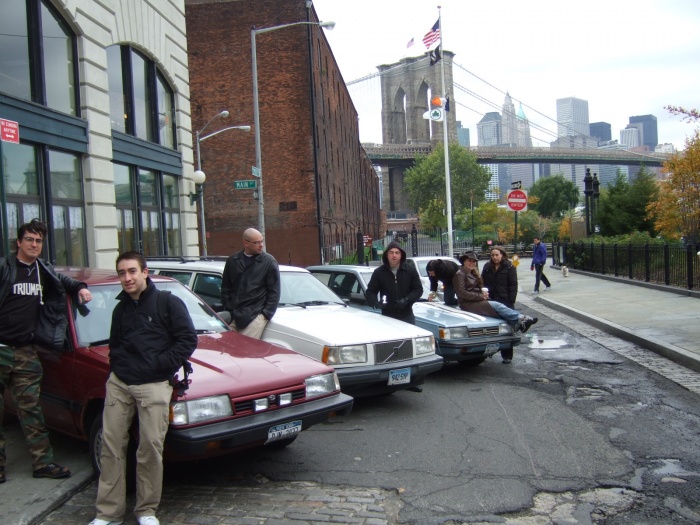 What started as an email to friends about the current rich-boy douchery surrounding cross country runs somehow turned into a bunch of friends showing up in Dumbo, Brooklyn on Election Day, and electing to drive across the country for under $2904.
When you think about driving across the beautiful USA non-stop, of course one of the first cars to spring to a car aficionados' mind is the effervescent Subaru Loyale. With just over 100 horsepower and no Turbo what better car to conquer the high plains of the American West? Well the answer in 2007 was the powerhouse Volvo 740.
Two Loyales (one who failed the Maine car inspection as was destined to be crushed) and a posh 740 (posh=leather interior) set off that fine morning to prove that you didn't need to be rich to be preposterous.
Team Creative Film cars would set a record in 2007, not by any measure of speed, but by pure oil consumption. 14 quarts to be exact. Apparently in high altitude the little car (with its accelerator floored for three states, which equaled about 65 mph) pumped oil directly out of its crankcase.
The Tailpipes, the all girl team in their rusted car from Maine (are there unrusted cars from Maine?) lived up to their moniker when their rusted muffler and tailpipe took leave of their car in Iowa. Result: big power gain! Top speed now 66 mph.
The winners, Flying Hellfish, dominated the proceeding with their Volvo and took the laurels of the first ever The 2904. The Crappy Trophy was born from the parts of the losing Subarus, and the rest is history baby.